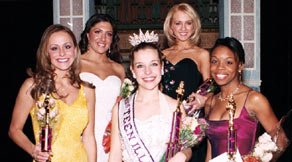 If you're thinking about entering the 2006 Miss Teen Illinois International Pageant now is your chance to make your dream come true! This pageant will create memorable moments with family and friends as you strive for the coveted title of Miss Teen Illinois International.
The Miss Teen International Pageant showcases the many accomplishments of today's young woman.
We invite you to become a part of this prestigious event. Send in your completed form today!
ENTER TODAY!
Limited Space Available
Competition consists of:
Personal Interview (40%)
Fitness (20%)
Fun Fashion Wear (20%)
Evening Gown (20%)
Please Note: There is no Swimsuit or Talent Competition